Watching cargo ships go up and down the Mississippi is a fascinating sight. The ships are immense, incredible structures that move silently, like ghosts gliding over the river. I caught this shot of the UBC Balboa just as the sun was setting, lighting it up like a fiery beacon.
The Mississippi River is one of the most important waterways in the United States, connecting the Great Lakes to the Gulf of Mexico. It flows past New Orleans at a level often much higher than the city itself, relying on levies to keep it in line. Because the levies block the view, we don't really see it that often. Most of the time we just see the tops of giant ships passing by at the end of the street.
This was a really big project, initially started as a study in contrasting colors. Imagine a blue and orange color field painting, but with water and a brightly colored ship. The painting measures 72 inches high by 86 inches wide and was painted over the course of three years. The photo below gives you an idea of the size.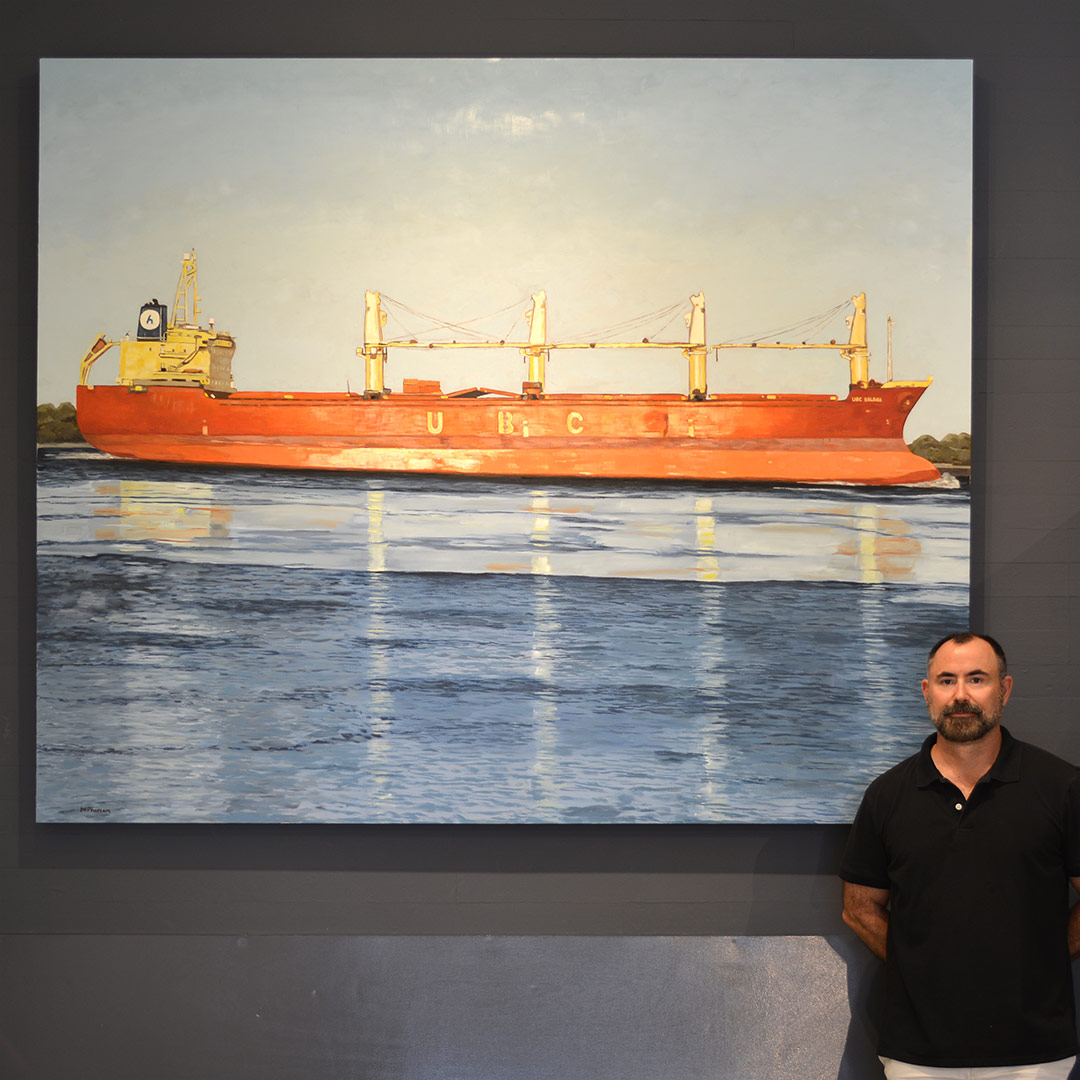 More About the UBC Balboa
The UBC Balboa is a bulk carrier ship that transports various types of cargo, such as grain, coal, petroleum, chemicals, and manufactured products. It was built in 1997 in Japan and has a gross tonnage of 14,661 tons and a deadweight of 23,484 tons. It is 154 meters long and 26 meters wide and has a draught of 6.2 meters. It is powered by a Mitsubishi engine that can reach a speed of 13 knots. It is registered under the flag of Cyprus and has the call sign P3MG7213.
The UBC Balboa has changed its name several times over the years. It was originally named Ocean Giant when it was launched in 1997. In 1998, it was renamed Brooknes. In 2001, it became UBC Balboa for the first time. In 2013, it was briefly called Bahia before returning to UBC Balboa in 20141.
The UBC Balboa is part of the UBC fleet, which consists of more than 40 vessels that operate worldwide. The UBC fleet is owned and managed by Universal Bulk Carriers (Cyprus) Ltd., a subsidiary of Universal Shipping & Trading Co., a Dutch company that specializes in dry bulk shipping4. The UBC Balboa has visited various ports around the world, such as Taranto in Italy, Limassol in Cyprus, and New Orleans in the United States.