A Nod to Magritte in a Modern Self-Portrait
We are constantly staring at our little screens. These little rectangular boxes are our security blankets, our hiding places and our reprieve from boredom. They are our sentence to be constantly available to people and things elsewhere often to the detriment of the people and places right in front of us. I came up with a dozen potential titles for this piece including Social Malaise, The Black Hole in My Head, Me With 1000 of My Friends, A Magritte for Today but ultimately titled it Self Portrait. It's certainly how I feel sometimes when I look up from my phone at dinner and see everyone else staring at theirs.
This was my donation to the 2023 Magnolia Ball auction at the Ogden Museum of Southern Art in New Orleans. The theme was "knowing who we are" and this certainly captures how I exist in the modern word. Ultimately I'd like to break the habit of having the phone in front of my face. I think a lot of people would. The concept behind the failed Google Glass project was to have people transition back to looking at the world around us instead of at these little electronic boxes. I'm not sure why it failed but maybe we don't want to have to acknowledge the world. By looking into our phones, we don't have to see anything we don't want.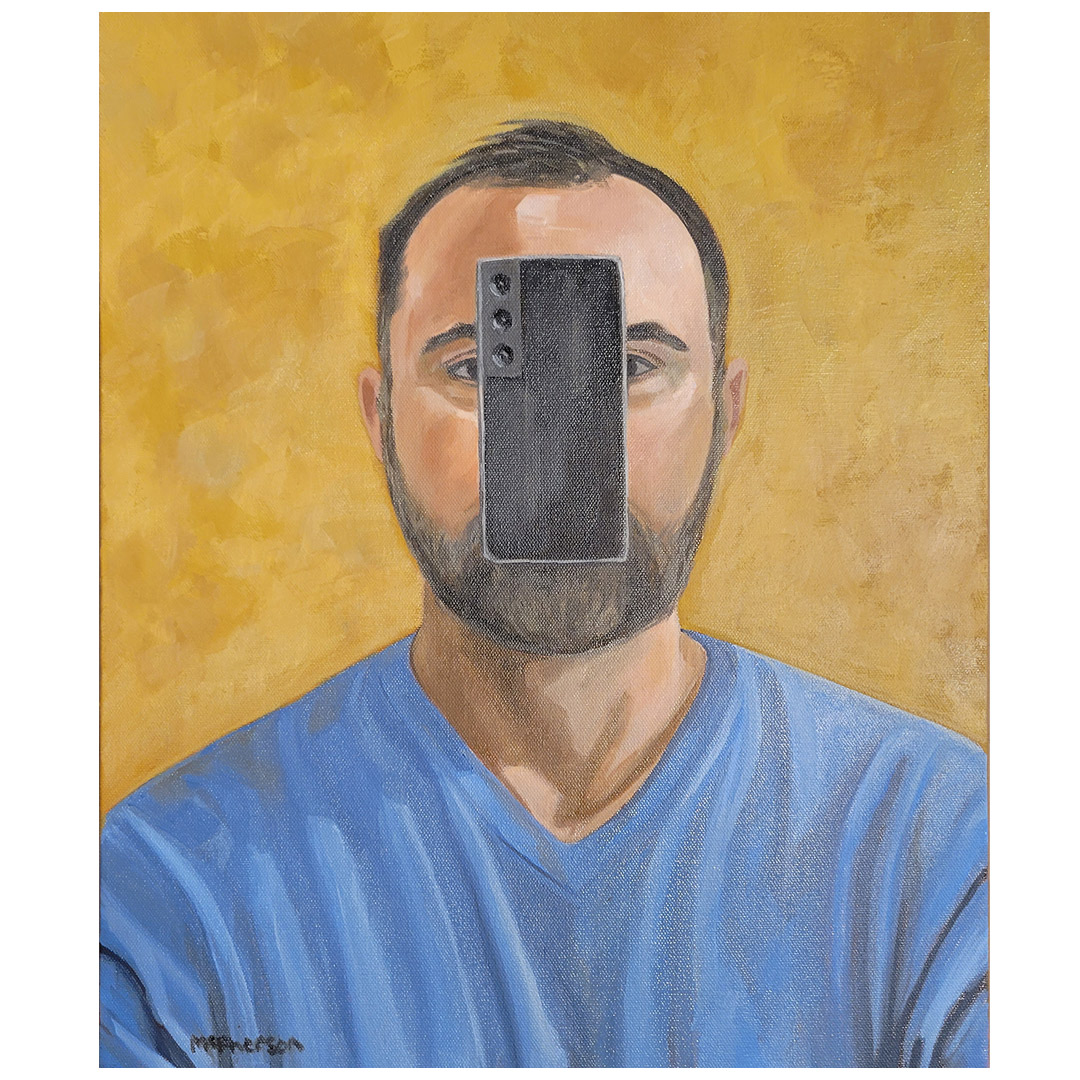 More about the Ogden Museum
The Ogden Museum of Southern Art is a museum located in New Orleans, Louisiana, that is dedicated to the preservation, exhibition, and celebration of Southern art and culture. The museum's collection includes over 4,000 works of art, including paintings, photographs, sculptures, and mixed media pieces.
The Magnolia Ball is an annual fundraising event hosted by the Ogden Museum of Southern Art, held to support the museum's educational mission, including exhibitions and award-winning programming. The ball features after-hours access to the galleries, live entertainment, premiere local cuisine, and exclusive silent auction items from Southern artists and local businesses1.
The 2023 Magnolia Ball was held on Saturday, June 10th from 8 p.m. to midnight. The theme for the ball was "Knowing Who We Are: A 20th Anniversary Exhibition." 
For more about the Ogden, visit https://ogdenmuseum.org/.